Get started with Dynatrace
To start using Dynatrace, just create a free trial account, install OneAgent on a host, and see how Dynatrace immediately shows you the health and performance of that host.
Step 1: Create your Dynatrace account
To create an account
Go to the Dynatrace website.

Select Free trial.

Enter your business email address and select Start free trial.

Provide a few account details (nothing too technical) and agree to the terms and conditions.

Select Create account.

You should see a welcome message something like this.
Step 2: Deploy Dynatrace
After you create an account, download and install Dynatrace OneAgent on a host.
Select Deploy Dynatrace.

Select Start installation.

Select the type of machine you are going to monitor: Windows, Linux, AIX, or Solaris.

Follow the on-screen instructions for getting and installing OneAgent.

For Windows, there are no additional parameters to provide. Just select Download OneAgent installer to download the Windows installer. When the download is finished, copy the installer to the target Windows machine and run it.
For other operating systems, the download page will show you the exact commands for installing the agent. Copy the command and run it on the target machine to install the agent.

The installer will tell you that Dynatrace OneAgent has successfully connected to a Dynatrace cluster node and display a congratulations message.

OneAgent couldn't connect?

If your network doesn't allow SSL communication with the Dynatrace cluster, you need to adjust your network setup to allow transmission of your monitoring data to your Dynatrace SaaS environment.

We recommend that you install an Environment ActiveGate and then install OneAgent. Environment ActiveGate works as a proxy between Dynatrace OneAgent and the Dynatrace cluster. You'll need it if you're going to monitor a large number of hosts.

After you install OneAgent, restart the processes you want to monitor (or restart the machine).

Select Show deployment status to verify the deployment.
You installed a single OneAgent, so you should see one host listed.

Click in the Details column to see a list of services already detected and being monitored on the host.

Select the host name and let Dynatrace show you how that host is performing.
Step 3: Take your first look
When you select the host name, Dynatrace shows you what it already knows about that host.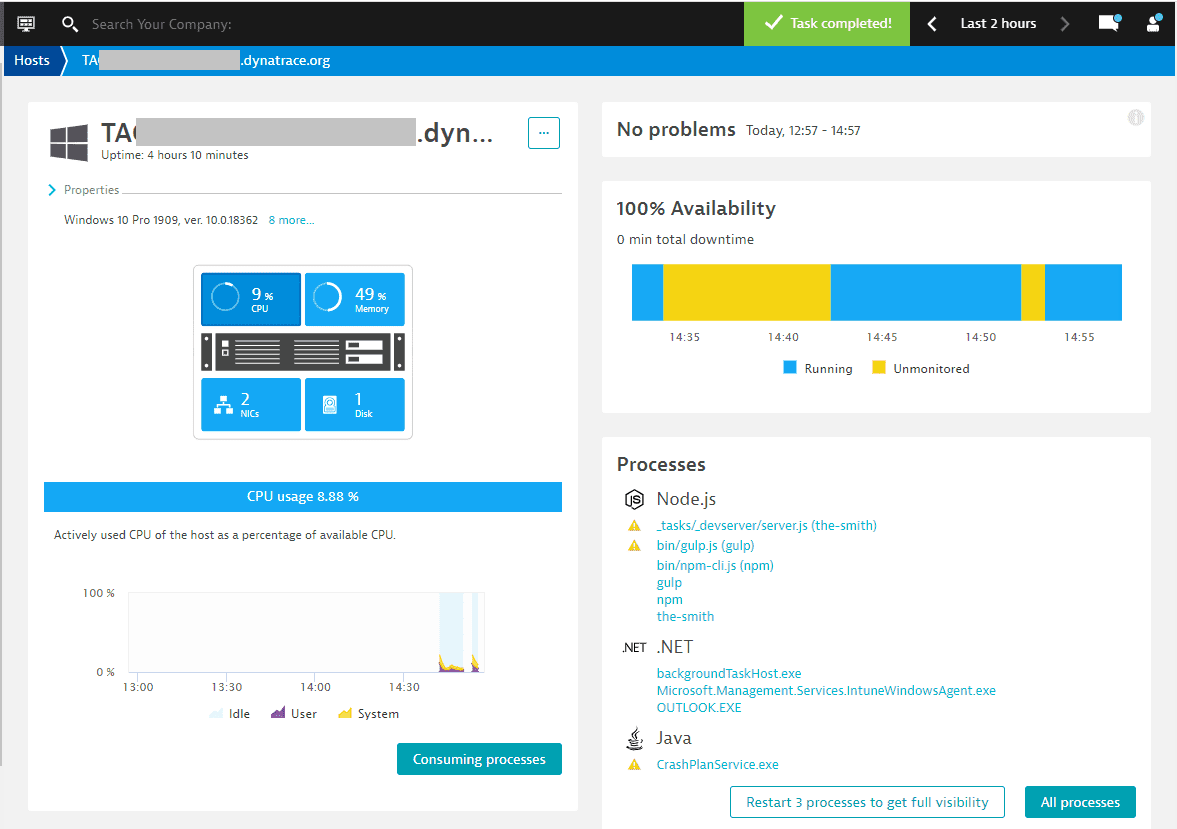 CPU, memory, NICs, and disks
In our example, you can see CPU consumption (9%), memory consumption (49%), number of NICs (2), and number of disks (1). Click any of them to focus the chart on the selected item.
With CPU selected (the default), you can click Consuming processes to see exactly which processes are using that memory.
From the list of consuming processes, you can select a process to examine that process.
And from there, you can continue drilling down from the process point of view.
Similarly, you can drill down on memory, NICs, or disks to examine the host from those points of view.
Problems
Dynatrace automatically detects problems in your monitored environment and lists them here. If you just installed OneAgent, you might see no problems detected within the selected timeframe (the default is Last 2 hours).
You can always change the time range setting at the top of the page. In the next example, we changed it to Last 6 hours and discovered one problem (availability) within that timeframe.
You can drill down from a listed problem to get the details.
Availability
In this example, we have 100% availability for the selected timeframe.
If instead you saw some downtime…
…you could click on the chart to see details.
Processes
In this example, Dynatrace lists automatically detected processes and tells you if you need to restart any to monitor them.
Events
Dynatrace charts all detected events, which in this example are 8 process restarts.
Click Process restarts to list them all and see details.
Logs
Dynatrace shows you logs available for examination. Click a log name to search that log.
Step 4: Fine tune your environment
You can now access your home dashboard, by logging in to your Dynatrace monitoring environment. All monitoring data should be there already. However, some additional post-deployment steps are required.
Step 5: Deploy to other hosts
You can see how easy it is to deploy Dynatrace to one host and immediately start monitoring it. But that was just a taste of what Dynatrace can do for you.